Kids Prescription Sports Glasses
Children & Teens (Age: 6 to 12 Yr) **120mm wide** BL016 Gray/Gray
Rest easy knowing your child is equipped with the BL016 Gray/Gray protective glasses when playing his/her favorite sports. Impact resistant lenses mated to a sturdy frame with a durable, adjustable head-strap as standard; enough said.

Product Summary
Suitable as a pair of Prescription or Non-Prescription sports glasses for children.
Suitable for Basketball, Volleyball, Tennis, Soccer, Badminton etc
Recommended age 6-12 years old.
Color: Shadow Gray color frame, gray side shields and front padding.
Frame/chassis comes fitted with non-prescription lenses as standard. Optional prescription lenses available from as low as USD$60.00. Extra charge for high powers and additional coatings.
Note on sizing: Please compare the width of your child's glasses from temple to temple or the width of the user's head from ear to ear against the Total Width measurement shown above for suitability.
Features & Benefits
SHATTER RESISTANT MATERIAL
Frame: Polycarbonate
Lenses: Polycarbonate (lightweight shatter resistant material)
OPTIONAL PRESCRIPTION LENSES TAYLOR MADE TO YOUR NEEDS
Each frame comes standard with a set of Non-Prescription clear polycarbonate lenses.
Optional Polycarbonate prescription lenses available from US$60.00.
Powers available: Sphere powers from +10.00 to -12.00 with an opposite cyl of 5.00

Email optometrist@gogglesnmore.com for powers outside this range.
What is my Pupillary Distance (PD)? Click on FAQ (top of page) for more information.

ENJOY ULTRA SHARP PERIPHERAL VISION WITH MINIMUM DISTORTION (OPTIONAL HIGH DEFINITION DIGITAL LENSES)
Traditional wrap-around lenses often cause distortion and blurry vision on the side of the lenses.
Digital HD lenses are now available, with clear vision throughout each lens.

INDOOR OR OUTDOOR USE - YOUR CHOICE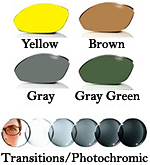 All lenses come standard with clear lenses. Optional Tinted, Polarized and Transitions lenses available. 100% UV protection.
Polarized lenses - Fixed color tints that reduces glare reflecting off surfaces such as water and windscreens. Ideal for water sports.
Transitions VII lenses - Changes from clear indoors up to 70% dark gray outdoors under strong sunlight.
Transitions XTRActive - Changes from light 10% grey indoors up to 85% dark gray outdoors.
Click Here for available lens colors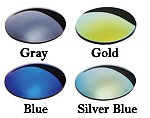 SPICE IT UP WITH OPTIONAL MIRROR COATINGS
Why not add an extra touch of cool to your child's sports glasses?
Mirror coatings look great and they will decrease the amount of light coming through the lenses by a further 10% - 60%.
Excellent for snow, water, sand and high altitude conditions.
Mirror coatings can be added to clear or tinted/polarized lenses only (not available with Transitions lenses).
Click Here to see Mirror Coating colours available with your lens colour


OPTIONAL ANTI-FOG FOR EVEN BETTER PERFORMANCE
All lenses do not come standard with antifog agents on them. For best results, we recommend using Clarity Defog IT Reuseable Anti-fog Wipes.
DEFOG IT Anti-fog wipes are safe and effective on all lens types, including anti-reflective lenses.
No spray needed, just wipe on dry lenses before use. Reusable for up to 8 applications.
PACKAGE INCLUDES:
1x Polycarbonate Sports Frame + Adjustable Strap
1x Pair of Clear Polycarbonate Lenses (Plano/Non-Prescription) OR (Optional prescription lenses)
1x Case
1x Microfibre Pouch (Doubles as Cleaning Cloth)
DELIVERY LEADTIME ESTIMATES:
Dispatch Time (Non prescription lenses): Usually 1-3 WORK DAYS
Dispatch Time (Prescription lenses): Usually 5-10 WORK DAYS
Delivery Time: Standard Registered Shipping: Usually 7-18 WORK DAYS After Dispatch
Delivery Time: Express Shipping: Approx 2-7 WORK DAYS After Dispatch
TOTAL TIME = Dispatch Time + Delivery Time
(Additional 1-3 days for antireflective, tinted and mirror coated lenses)
Disclaimer: When worn properly, protective eyewear is designed to reduce the possibility of serious eye injury to a player's eyes when struck in that region by a ball in the normal course of play. Even when properly wearing protective eyewear, a player may still sustain injury, including severe eye injury, as ball sports, racquet sports and other sports are intrinsically hazardous. Participation in such sports implies acceptance of some risk of injury. Please note these sports glasses are not suitable for baseball, cricket, hockey and ice hockey. THE DESIGNER, DISPENSER AND MANUFACTURER DO NOT CLAIM THAT ANY EYEWEAR IS UNBREAKABLE OR ELIMINATES THE POSSIBILITY OF EYE OR FACIAL INJURY.
I got my 7yr old son a pair of sport…

I got my 7yr old son a pair of sport glasses. He loves them! They are stylish and sturdy! Customer support is excellent.



Outstanding transaction. Top notch product delivered quickly.



Great site! Easy to use and reliable.



I've purchased numerous items from this company, with each one being simple and hassle free. Delivery is efficient and product is top notch. I highly recommend this company.



Best prices anywhere. Super quick to ship order.



5 Star experience for prouducts and customer service!

We've been ordering from GnM every year since our son, who has strabismus, was 4. We've ordered Rx swim goggles and now that he's older, sport goggles. Having the option for transitions is great so we don't have to buy in/outdoor versions. Very convenient! Every question I asked or update to an order I've made was met with courtesy and patience. On a recent order, the swim goggles did not pass their internal quality control. They contacted me about the delay and expedited shipping when completed. I highly recommend them. If you are on the fence, don't be! You'll be thrilled w/ the results!



5 stars service Professionals!



They did what other companies could not do.

My six year old has extreme farsightedness +875/+900. I needed sports googles for him and no one else said they could make goggles that high especially for someone that young. Not only did GooglesNMore make them they upgraded him to a different lens so they were not as thick.

The 2 pairs we ordered were just as described in the website. Both pairs are durable and well made. Just plan ahead as it took a few weeks from order date to receive as company ships from China.

GogglesNMore:
Thanks for your valuable feedback Kelly and glad to hear you like your new goggles. Orders are shipped out of our logistics center based in Hong Kong as stated on our shipping info page. Cheers.