Convert your own Goggles to a Prescription Goggle with our Universal Prescription Lenses Inserts (4 sizes for kids & adults + prescription lenses available) Suitable for almost any Ski Goggles, Snow Boarding, Motorcycle & Motocross Goggles, Safety Goggles and even Paintball Skirmish Goggles.
Suitable for Adults & Kids (4 Sizes Available)

You're no longer constrained to "fit-over" style goggles or very expensive brand name prescription goggles

Costs only a fraction of the price of regular prescription ski goggles/Snow Boarding Goggles/Motocross Goggles


Transforms your favourite goggles into a pair of precription goggles in seconds.


Cleverly designed insert fits snugly behind your goggle lenses so they won't come off when you're in action.


Quick insert or release so you can use it between your different pairs of goggles

Suitable for Oakley, Smith, Anon, Bolle, Abom, Cebe goggles and many other brands

Just click on the link below and see which size is recommended for your goggles.
Please click here to see WHICH INSERT SUITS MY GOGGLES?
[NB: Not compatible with open-style, sports goggles (i.e. not designed for basketball/soccer/volleyball/windsurfing goggles etc) sold on this website]
Key Features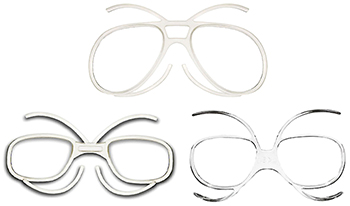 SHATTER RESISTANT MATERIAL
Frame: TR90 Compatible Material or high impact nylon
Lenses: Polycarbonate or CR39 material available
PRESCRIPTION
Choice of either Lifestyle CR39 or light-weight, impact resistant Polycarbonate lenses made to your prescription.
Wide range of powers available, starting from USD$30.00 for low powers. Extra charges apply to high powers and lens material upgrade.
NB: Total powers (Sphere + Cylinder) needs to be between +10.00 and -12.00
Single Vision Distance, Lined Bifocal and Progressive (no line) lenses available.
If your prescription changes in the future, simply put new lenses into your insert.
You can purchase just the insert and take it to your local optician to have your prescription lenses fitted. No template needed.
If your prescription powers are outside the range shown above or perhaps you are unsure if your prescripton is available, please email our Optometrist at Optometrist@gogglesnmore.com.
What is Pupillary Distance (PD)? Click here for more information.

DIMENSIONS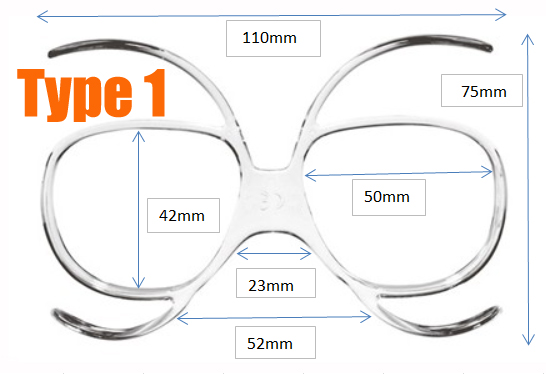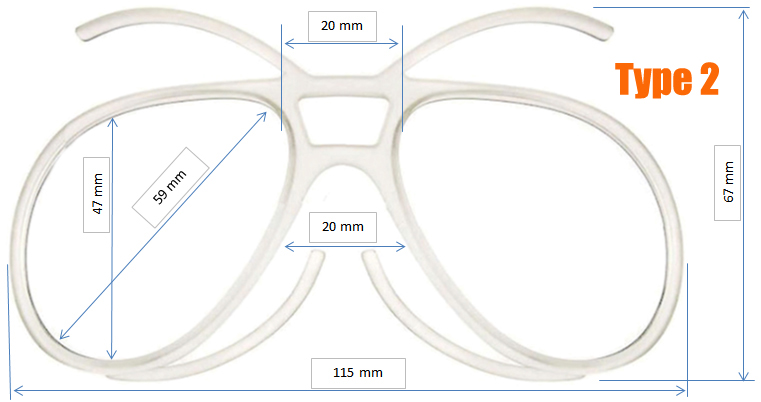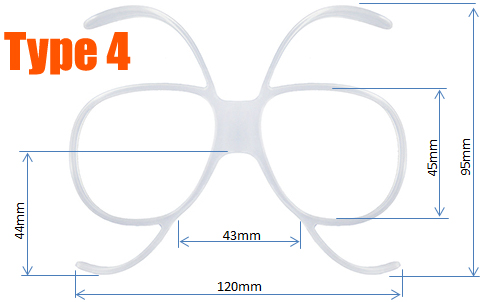 ANTI-FOG (OPTIONAL)

All made to prescription lenses do not have anti-fog agent on them. For best results, we recommend using Clarity Defog IT Reuseable Anti-fog Wipes.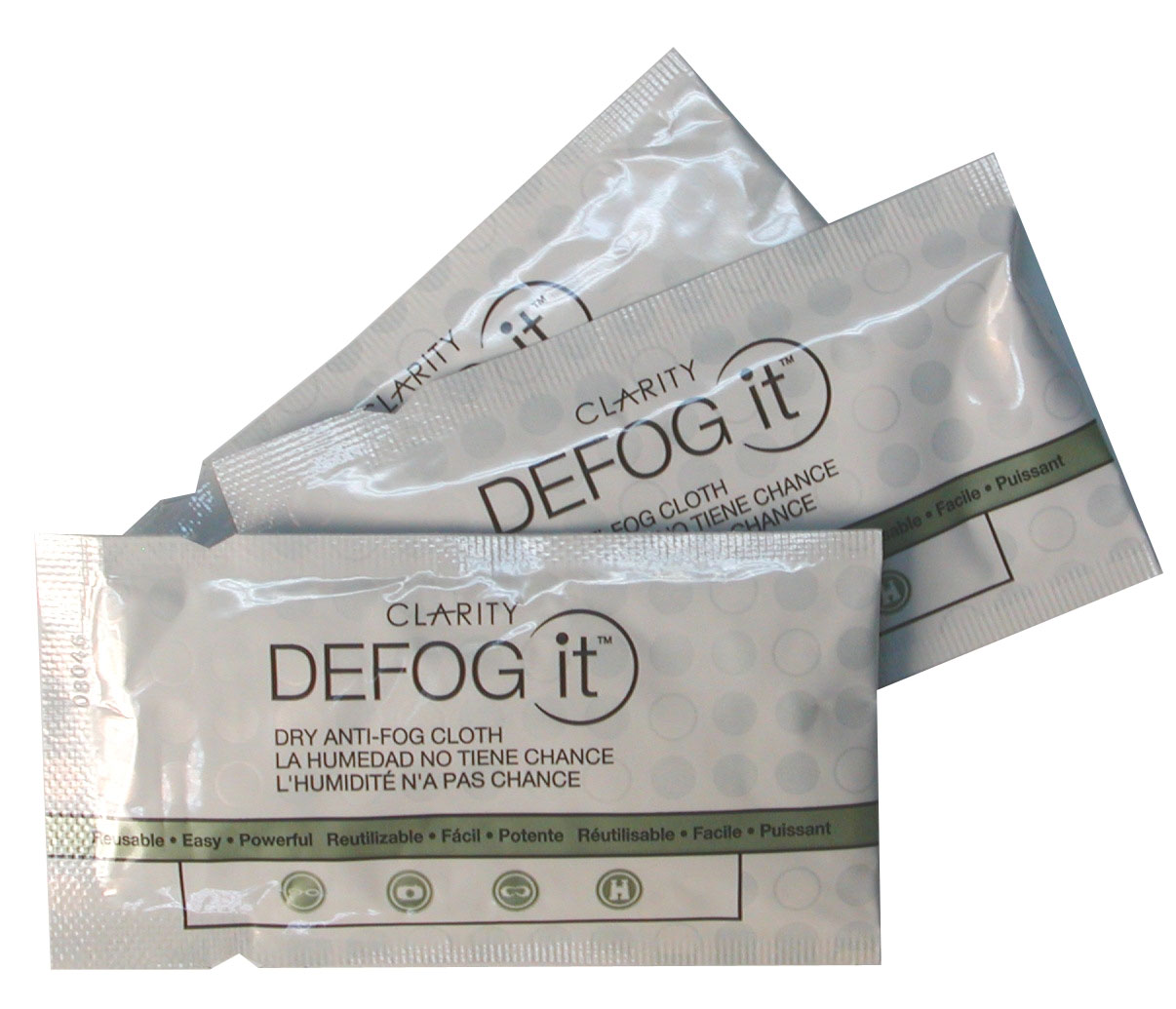 Clarity DEFOG IT Reusable Anti-fog Dry Wipes

Trusted by the military, law enforcement agencies and sports enthusiasts worldwide, Defog IT's specially formulated anti-fog treatment works for many hours on swimming goggles, sports goggles, diving masks, ski goggles, glasses; basically any optical lenses.
DEFOG IT Anti-fog wipes are safe and effective on all lens types and coatings, including anti-reflective lenses.
Goes on invisible with no smearing. No spray needed, just wipe on dry lenses before use.
Multi-use cloth. Up to 8 applications with the original cloth depending on lens size.
Click here to watch a video of how Defog it really works.
PACKAGE INCLUDES:
1x Universal Goggles Insert/Frame
1x Pair of Prescription Lenses (Optional Extra)
DELIVERY LEADTIME ESTIMATES:
Dispatch Time (Non prescription lenses): Usually 1-3 WORK DAYS
Dispatch Time (Prescription lenses): Usually 2-7 WORK DAYS
Delivery Time: Standard Registered Shipping: Usually 7-18 WORK DAYS After Dispatch
Delivery Time: Express Shipping: Approx 2-7 WORK DAYS After Dispatch
TOTAL TIME = Dispatch Time + Delivery Time
Just like your regular prescription glasses, all prescription goggle lenses are custom made and so will take time to make and fit to your frame. Once they are finished, they will be dispatched from our facilities and then shipped via your delivery method of choice. Whilst we are able to fast track dispatching of goggles where possible, we are unable to control shipping lead-time, which is dependent on factors such as customs clearance and your local postal services.
Please see compatible ski goggles by brands/models and/or 1:1 ski insert templates/cutouts for test fitment.
Helpful, self-explanatory website, reasonable price, quick free delivery, good product; works exactly as desired. Highly satisfied.



Good product


Great to deal with ski goggle inserts…

Great to deal with ski goggle inserts work great



been ordering google inserts for my…

been ordering google inserts for my daughter's eye glasses for past few years..always quick, exact and hassle free...



Inserts fit well into my goggles. The optician did not have any problems filling my rx, however they needed to be flattened to reduce the amount of induced blue from the wrap. They also tend to fog up when I'm mountain biking.



Just bought 2nd Pair. Fantastic Product!

Just bought my 2nd pair of goggle inserts (this time for my father) and they are just fantastic. Being able to see on the mountain without having to wear actual glasses is a game changer. Easy purchase, fast shipping and a great price. Will definitely buy from again!



Great order service and custom…

Great order service and custom attention to my order. Great product too!



This is my second order with GogglesNMore and I have been happy with my experience both times.



Frames are in production now

I have received the frames and they are currently at the Optomirist getting the lens put in. I will advise more after that is done.