Kids Prescription Glasses
Kids 7-12 yrs 120mm wide Kids glasses 9007 in black frame with red arms
Standard with fully flexible hinges, ear hooks for added security, goggles convertible strap for active kids, extra protective nose pads, and 2 different lengths side hinges to fit all ages. Designed for maximum comfort and safety with no metal screws, these are the definitive child-proof glasses. Also available, are our special blue light control (blue blocker) lenses to help avoid irreversible damage otherwise done to your child's eyes from frequent use of digital screens (e.g. laptops/smart phones/Tablets/TV etc).

Product Summary
1 Size Available
50mm lens width 120mm frame width - (For Children 7-12 yrs)

Note on sizing: Please compare the width of your child's glasses measured straight across from temple to temple (measured using a straight ruler) against the Frame Width measurement shown above for suitability.
Frame Features
Child-Proof Flexible Hinges with No Screws
Minimizes the risk of your child breaking their glasses
Virtually unbreakable: Can twist and bend more than 180 degrees
No metal screws or parts to worry about
Hinge is made from a flexible material that will spring back into its original form after being stretched
Removable Ear Hooks
Do you have an active child and you're worried about their glasses falling off when they are running around?
Worried the glasses will be too big for your child?
The flexible ear hooks are supple and comfortable and help ensure a snug fit on your child. You can move it along the arms of the frame to the most comfortable position.

Glasses Converts to Goggles!
Do you have an active child?
Worried the glasses will come flying off in the playground
Glasses come with a 2nd larger U shape nose pad that has added cushion to protect the bridge of the nose from frontal knocks, and also an adjustable goggle strap to suit all head sizes!
Frame Package
(1) Frame Front
(2) Larger U Shape Nose Pad (for added cushioning)
(3) Convertible Goggle Strap
(4) Regular arms / temples
(5) Adjustable Buckle on Goggle Strap
(6) 2 Different Size Hinges to suit all head sizes
(7) Regular Nose Pads
(8) Ear Hooks for regular temples
(NB: Color of frame and accessories vary for different color frames)
Lenses & Lens Options
BLUE BLOCK GLASSES: ANTI BLUE LIGHT LENSES AVAILABLE (OPTIONAL)
Protect your Child's eyes from damaging Blue Light - click here to find out more
Ideal for individuals who spend much of their day exposed to high-energy blue light emitted from smartphones, computers, tablets, TV etc.
Helps you sleep better at night: Significantly reduces exposure to blue light emitted from screens of digital devices that are associated with disruption to the body's Circadian Rhythm.
Improves visual comfort by enhancing color contrast.
What's unique and cool about these lenses? Unlike other blue blocking glasses on the market, our Blue Light Control lenses deliver a well-balanced combination; optimum blue light filtering with minimum effect on color distortion.
Color of lenses: May be slightly yellow in appearance with blue color coating
100% UV Protection
Recommended for mainly indoor use
INDOOR OR OUTDOOR USE - YOUR CHOICE
Optional Tinted, Polarized and Transitions lenses available. 100% UV protection.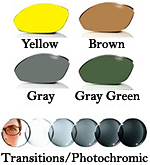 Polarized lenses - Fixed color tints that reduces glare reflecting off surfaces such as snow, water and windscreens. Ideal for water and winter sports.
Transitions lenses - Changes from clear indoors up to 70% dark gray outdoors under strong sunlight.
PACKAGE INCLUDES:
1x Spectacle Frame + Goggles Accessories (optional prescription lenses)
1x Protective Case
1x Microfibre Cleaning Cloth
DELIVERY LEADTIME ESTIMATES:
Dispatch Time (frame only): Usually 1-3 WORK DAYS
Dispatch Time (Prescription lenses): Usually 5-10 WORK DAYS
Delivery Time: Standard Registered Shipping: Usually 7-18 WORK DAYS After Dispatch
Delivery Time: Express Shipping: Approx 2-7 WORK DAYS After Dispatch
TOTAL TIME = Dispatch Time + Delivery Time
(Additional 1-3 days for anti-reflective, transition, tinted and mirror coated lenses | Additional 3 to 7 days for Blue Light Control lenses)
DISCLAIMER: Eyeglasses, when properly worn, are designed for vision correction only. They are not designed for use as a substitute for protective goggles specifically designed for racquet sports, contact sports or other impact sports as these are intrinsically hazardous. Failure to heed this warning risk the possibility of eye injury, including severe eye injury to a person's eyes when struck in that region. Please note participation in any sports implies acceptance of some risk of injury. The Designer, Dispenser and the Manufacturer do not claim that any eyewear is unbreakable or eliminates the possibility of eye or facial injury.