Floating sunglasses for shooting, paddleboarding, fishing, jet skis and watersports.
[Adults] Fuglies RX04 SAS Military Style Sunglasses: This sturdy frame/chassis is a favorite of the Australian Special Forces (Australian SAS). These prescription wrap around sunglasses combine rugged good looks with prescription lenses compatibility. Choose from our wide selection of lens materials, lens colors and mirror coatings to customize these dashing sunglasses to suit you.
Product Summary

US military MIL-PRF-31013 Certified
ANSI Z87.1+ Certified
Ballistic Rated Lenses
Suitable for fitting sunglass prescription lenses (optional) without the need for lens insert or clip-ons.
Recommended for adults
Color: Gloss Black color frame
Removable foam gasket for extra protection against glare. It even makes these sunglasses float on water!*
Adjustable headstrap
Above price is for Frame/chassis only. Optional prescription lenses available from as low as USD$60.00. Extra charge for additional coatings.
Note on sizing: Please compare the width of your glasses from temple to temple or the width of the user's head from ear to ear against the Total Width measurement shown above for suitability.
* Note on floating - the removable foam gasket allows the sunglasses to float for up to 45 minutes until the foam becomes water-logged under full immersion.
With the foam gasket removed, the sunglasses will not float.
Features & Benefits
UV400 RATED UV PROTECTION

All optional prescription sunglass lenses are UV400 rated to protect your eyes from the sun's harmful UV radiation (both UVA and UVB).
OPTIONAL PRESCRIPTION LENSES TAYLOR MADE TO YOUR NEEDS
Optional prescription lenses available from US$60.00 (Fitted into frame).
Powers available: Sphere powers up to +4.00/-4.00 with an opposite cyl of 3.00. Total Sph+Cyl power of up to +4.00/-4.00.
Single Vision Distance and Progressive lenses available.
Email optometrist@gogglesnmore.com for powers outside this range.
What is my Pupillary Distance (PD)? Click on FAQ (top of page) for more information.

ENJOY ULTRA SHARP PERIPHERAL VISION WITH MINIMUM DISTORTION (OPTIONAL HIGH DEFINITION DIGITAL LENSES)
Traditional prescription wrap-around lenses often cause distortion and blurry vision on the side of the lenses.
Digital HD lenses are now available, with clear vision throughout each lens.

OPTIONAL LENS COLOR - THERE WILL BE A COLOR FOR YOU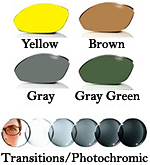 Tinted, Polarized and Transitions prescription lenses available. 100% UV protection.
Polarized lenses - Fixed color tints that reduces glare reflecting off surfaces such as water and windscreens. Ideal for boating or fishing.
Transitions VII lenses - Changes from clear indoors up to 70% dark gray outdoors under strong sunlight.
Transitions XTRActive - Changes from light 10% grey indoors up to 85% dark gray outdoors.
Click Here for available lens colors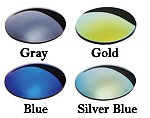 SPICE IT UP WITH OPTIONAL MIRROR COATINGS
Why not add an extra touch of cool to your sports glasses?
Mirror coatings look great and they will decrease the amount of light coming through the lenses by a further 10% - 60%.
Excellent for snow, water, sand and high altitude conditions.
Mirror coatings can be added to clear or tinted/polarized lenses only (not available with Transitions lenses).
Click Here to see Mirror Coating colours available with your lens colour


OPTIONAL ANTI-FOG FOR EVEN BETTER PERFORMANCE
All prescription lenses do not come standard with antifog agents on them. For best results, we recommend using Clarity Defog IT Reuseable Anti-fog Wipes.
DEFOG IT Anti-fog wipes are safe and effective on all lens types, including anti-reflective lenses.
No spray needed, just wipe on dry lenses before use. Reusable for up to 8 applications.
PACKAGE INCLUDES:
1x Sunglass Frame
1x Removable Foam Gasket
1x Adjustable Headstrap
1x Pair of Prescription Sunglass Lenses (Optional)
1x Soft Pouch
DELIVERY LEADTIME ESTIMATES:
Dispatch Time (Non prescription lenses): Usually 1-3 WORK DAYS
Dispatch Time (Prescription lenses): Usually 5-10 WORK DAYS
Delivery Time: Standard Registered Shipping: Usually 7-18 WORK DAYS After Dispatch
Delivery Time: Express Shipping: Approx 2-7 WORK DAYS After Dispatch
TOTAL TIME = Dispatch Time + Delivery Time
(Additional 1-3 days for antireflective, tinted and mirror coated lenses)
The Fuglies RX04 was not designed to be cycling glasses but they certainly work. They are light and sturdy. They lie flush to my face. They cover just the eye sockets. The prescription Transition lenses give me an unobstructed clear view that I never had with fit over sunglasses over prescription glasses. The transition lenses react without you even noticing. The foam gasket around the lenses are ventilated. I haven't had any fogging. The strap is adjusted to hold the glasses without plastering it against your face. I ride with them on upright and trike cycles. They work equally well in a tuck or recumbent. They simply do what they need to do while cycling.

The Fuglies SAS sunglasses are wonderful. They are obviously well made and rugged. They sit flush on my face covering just my eye sockets. The prescription was spot on. My field of view was unobstructed up, down and both sides. The transition lenses sneak up on you. Whether you were in sunlight or shadow they did their job and you barely noticed.

During the 5 years as a challenged athlete I have never been satisfied with my eye wear. I can't do without vision glasses or sunglasses. I used to wear bifocals on my racing trike and couldn't see anything. Now I can see everything. Let's face it...they look badass too!