Prescription Sports Glasses
Children & Teens & Adults (Age: 5+ yrs to Adults) **117-123mm & 123-130mm wide** Rec Specs F8 Helmet Spex (Matte Electric Blue) Goggles
Liberty Sport's newest sports goggles designed for a better fit under a helmet. Includes soft rubber end pieces for better comfort and cushioning, vented rims to increase airflow to minimize fogging, and contoured adjustable strap to fit over the ears. Each pair comes with a skull cap, to be worn over the goggles and under the helmet so your goggles stay in place when you take your helmet off.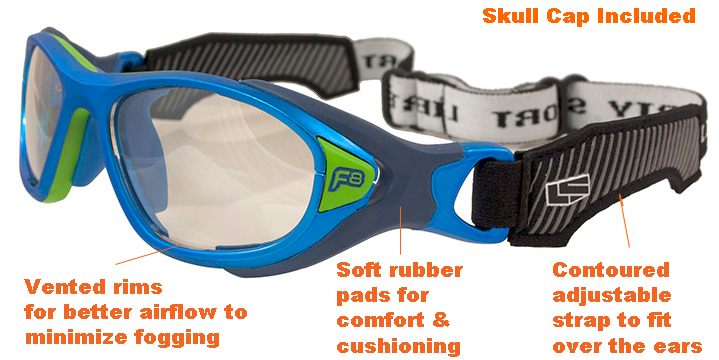 Product Summary
2 Sizes Available

49mm lens width 117-123mm frame width with Flexible Hinge - (5-10 years)
53mm lens width 123-130mm frame width with Flexible Hinge - (10+ yrs to Adults)


Suitable as a pair of Prescription or Non-Prescription sports glasses.
Suitable for helmet wearing sports as well as Basketball, Handball, Lacrosse, Paddleball, Racquetball, Soccer, Squash, Tennis etc
Recommended for children & teens & adults between the ages of 5+ to Adults.
Rec Specs F8 Helmet Spex Color: Matte Electric Blue (#619) color frame
Frame comes fitted with non-prescription lenses as standard. Optional prescription lenses available from as low as USD$60.00. Extra charge for high powers and additional coatings.
Note on sizing: Please compare the width of your glasses from temple to temple or the width of the user's head from ear to ear against the Total Width measurement shown above for suitability.
Features & Benefits
CONFIDENCE INSPIRING IMPACT PROTECTION
Meets or exceeds ASTM F803 impact protection standards for multiple sports.
Contoured adjustable strap to fit over the ears + free skull cap
Unique vented frame rim to help ventilation and minimize fogging.
OPTIONAL PRESCRIPTION LENSES TAYLOR MADE TO YOUR NEEDS
Each frame comes standard with a set of Non-Prescription polycarbonate lenses.
Optional Polycarbonate prescription lenses available from US$60.00.
Powers available: Sphere powers up to 8.00 with an opposite cyl of 4.00

Email optometrist@gogglesnmore.com for powers outside this range.
What is my Pupillary Distance (PD)? Click on FAQ (top of page) for more information.

ENJOY ULTRA SHARP PERIPHERAL VISION WITH MINIMUM DISTORTION (OPTIONAL HIGH DEFINITION DIGITAL LENSES)
Traditional wrap-around lenses often cause distortion and blurry vision on the side of the lenses.
Digital HD lenses are now available, with clear vision throughout each lens.

INDOOR OR OUTDOOR USE - YOUR CHOICE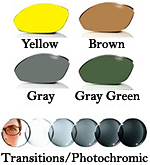 All lenses come standard with clear lenses. Optional Tinted, Polarized and Transitions lenses available. 100% UV protection.
Polarized lenses - Fixed color tints that reduces glare reflecting off surfaces such as water and windscreens. Ideal for water sports.
Transitions VII lenses - Changes from clear indoors up to 70% dark gray outdoors under strong sunlight.
Transitions XTRActive - Changes from light 10% grey indoors up to 85% dark gray outdoors.
Click Here for available lens colors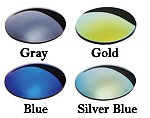 SPICE IT UP WITH OPTIONAL MIRROR COATINGS
Why not add an extra touch of cool to your sports glasses?
Mirror coatings look great and they will decrease the amount of light coming through the lenses by a further 10% - 60%.
Excellent for snow, water, sand and high altitude conditions.
Mirror coatings can be added to clear or tinted/polarized lenses only (not available with Transitions lenses).
Click Here to see Mirror Coating colours available with your lens colour


OPTIONAL ANTI-FOG FOR EVEN BETTER PERFORMANCE
All lenses do not come standard with antifog agents on them. For best results, we recommend using Clarity Defog IT Reuseable Anti-fog Wipes.
DEFOG IT Anti-fog wipes are safe and effective on all lens types, including anti-reflective lenses.
No spray needed, just wipe on dry lenses before use. Reusable for up to 8 applications.
PACKAGE INCLUDES:
1x High Impact Nylon Sports Goggles + Adjustable Strap
1x Pair of Clear Polycarbonate Lenses (Plano/Non-Prescription) OR (Optional prescription lenses)
1x Skull Cap
1x Case
1x Cleaning Cloth
DELIVERY LEADTIME ESTIMATES:
Dispatch Time (Non prescription lenses): Usually 1-3 WORK DAYS
Dispatch Time (Prescription lenses): Usually 5-10 WORK DAYS
Delivery Time: Standard Registered Shipping: Usually 7-18 WORK DAYS After Dispatch
Delivery Time: Express Shipping: Approx 2-7 WORK DAYS After Dispatch
TOTAL TIME = Dispatch Time + Delivery Time
(Additional 1-3 days for antireflective, tinted and mirror coated lenses)
Disclaimer: When worn properly, protective eyewear is designed to reduce the possibility of serious eye injury to a player's eyes when struck in that region by a ball in the normal course of play. Even when properly wearing protective eyewear, a player may still sustain injury, including severe eye injury, as ball sports, racquet sports and other sports are intrinsically hazardous. Participation in such sports implies acceptance of some risk of injury. THE DESIGNER, DISPENSER, MANUFACTURER AND RETAILER DO NOT CLAIM THAT ANY EYEWEAR IS UNBREAKABLE OR ELIMINATES THE POSSIBILITY OF EYE OR FACIAL INJURY.
Great customer service! They worked to meet my needs that were not an option on the website.



Perfect product, just as described, only negative is it took along time to recieve.



Wonderful product and fast service!

Wonderful product and fast service!