Babies & Toddlers Prescription Swim Goggles
Toddlers & Young Kids (Age: 2 to 5 Yr) Prescription lenses from US $40.00.
Having trouble with keeping your baby in the swimming pool? Does your little angel get upset in the water? Chances are, your child is probably having trouble seeing things with non-prescription goggles or ones that are not made to his/her actual prescription. Let us help you with our colorful range of S37 goggles with made-to-order prescription lenses.
COLOR:
Blue frame with bright yellow head-strap buckle and blue/green strap.

Note: For best anti-fog results, we recommend using Defog IT anti-fog wipes (optional extra). See how they work here.
Babies/Toddlers/Infants (2 - 5 years old) S37 Swim Goggles
At last, say goodbye to blurry vision with affordable swim goggles made to your child's exact prescription.
No need to fumble for spectacles immediately once out of the water; they work just like your everyday glasses (superior to ready-made Rx goggles).
Lenses can be made to provide short/near sight, long/far sight, and even astigmatism and prism corrections
UV400 Rated Lenses: 100% protection against UVA and UVB.
Latex Free
Recommended For: Toddlers & Kids between 2 to 5 Years of Age or Pupillary Distance (PD) from 44mm to 50mm
CUSTOMIZE THESE GOGGLES WITH LENSES TAYLOR MADE TO YOUR CHILD'S PRESCRIPTION

Wide range of powers available: Short and long sight powers (Sphere) up to +11.00 to -19.00. Astigmatism (Cylinder) up to ±8.00. Prism correction also available.
Total power (Sphere +Cylinder) is +13.00 to -19.00.
Prescription Lenses starting from +USD$40.00 for Sphere up to 6.00, and Cylinder up to 4.00. Extra charge for higher powers.
Please take note of the (+) and (-) signs in front of your SPHERE and CYLINDER powers.
For higher powers outside of the range shown above or if you are unsure whether your prescription is available, please email our Optometrist [Optometrist@gogglesnmore.com].
NB: If no pupillary distance (PD) is entered during checkout, average measurement would be used.)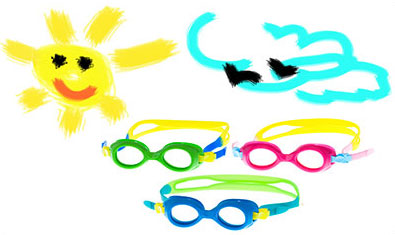 THERE IS A COLOR FOR YOUR CHILD

Further personalize your child's goggles by selecting one of the cool colors available.
Why not choose one for every matching colored swim wear?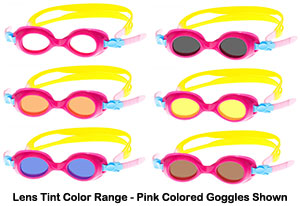 RANGE OF LENS COLORS TO CHOOSE FROM

Have extra fun with choices of clear or optional color lenses:

Clear lenses - Suitable for indoor pool use.
Color lenses - Reduces glare just like sunglasses; ideal for outdoor use.
Transition lenses - Clear color lenses indoor and changes to grey tinted lenses outdoor; ideal for both indoor and outdoor use!
All lenses, clear or colored, are UV400 rated (100% UVA & UVB protection) to protect your eyes from harmful solar radiation.
COMFORTABLE AND LATEX FREE FUN

Supple, latex free eye cups and adjustable head strap delivers excellent sealing together with worry free comfort.

ANTI-FOG
1x FREE reusable anti-fog treated cleaning cloth (good for many applications) included. This ensures many hours of fog-free fun. For best results however, we recommend using Clarity Defog IT high performance anti-fog wipes (see below).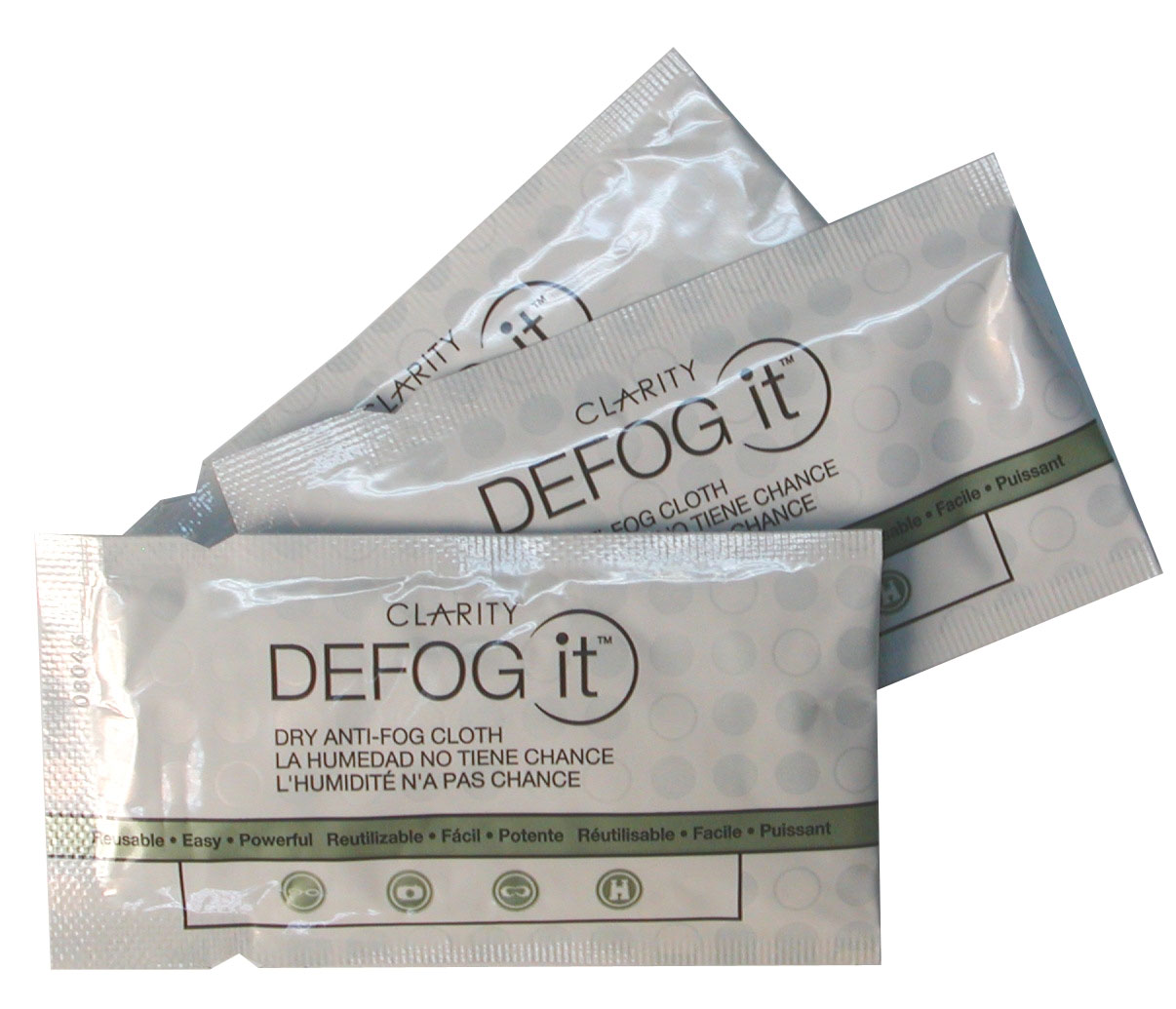 DEFOG IT Reusable Wipes + free Resealable Pouch
High performance anti-fog treatment works for hours on swimming goggles, sports goggles, dive masks, ski goggles, glasses or any optical lenses.
DEFOG IT Anti-fog wipes are safe and effective on all lens types and coatings, including anti-reflective lenses.
Goes on invisible with no smearing. No spray needed, just wipe on dry lenses before use.
Up to 8 applications with each original wipe or many more if kept returned to the resealable pouch provided.
PACKAGE INCLUDES:
1x Pair of Goggles Frame
1x Pair of Clear Plano Lenses (Prescription Lenses are Optional Extras)
1x Protective Hard Case (FREE)
1x Bonus Anti-Fog Treated Cleaning Cloth (FREE)
DELIVERY TIMES:
Dispatch Time (Prescription lenses): 5-10 WORK DAYS

Delivery Time: Standard Shipping: Approx 5-18 WORK DAYS After Dispatch
Delivery Time: Express Shipping: Approx 2-8 WORK DAYS After Dispatch
TOTAL TIME = Dispatch Time + Delivery Time
Just like your regular prescription glasses, all prescription lenses are custom made and so will take time to make and fit to your frame. Once they are finished, they will be dispatched from our facilities and then shipped via your delivery method of choice. Whilst we are able to fast track dispatching of goggles where possible, we are unable to control shipping lead-time, which is dependent on factors such as customs clearance and your local postal services.
Disclaimer: When worn properly,
swimming goggles are designed solely to reduce contact between your eyes and the water during the normal course of swimming. These are not suitable for snorkeling, scuba diving, springboard diving or any diving from elevated heights and must not be used as protective goggles for racquet sports, contact sports or other impact sports as these are intrinsically hazardous. Failure to heed this warning risk the possibility of eye injury, including severe eye injury to a person's eyes when struck in that region. Please note participation in any sports, including but not limited to swimming, implies acceptance of some risk of injury. THE DESIGNER, DISPENSER AND MANUFACTURER DO NOT CLAIM THAT ANY EYEWEAR IS UNBREAKABLE OR ELIMINATES THE POSSIBILITY OF EYE OR FACIAL INJURY.
Had a little mix up with delivery but…

Had a little mix up with delivery but everything worked out and goggles are great.


great prescription goggles

Great goggles for our 5 year old who has a very strong spectacle prescription. Good fitting and stylish. Great company to deal with , good price gear service and quick delivery



Very good service and quick delivery



fast and cheap. I will definitely buy here again.



Thanks from mom of active toddler son

These goggles are great for my almost 4 year old, very active son. It was heartbreaking to think of him missing out on fun in the pool, without being able to see accurately on his own, but with these prescription googles he is not missing a beat...& looks so cute in them too! We will be purchasing these goggles from here on out!



The prescription goggles are wonder …

The prescription goggles are wonderful. They were expensive, but worth it.



Very good customer service

I was extremely happy with the immediate response I received from goggles n more. About product, I am glad I ordered the toddler size rather than child size goggles because even though my 4 year old is on the smaller side, toddler size goggles were a bit big on him. Straps were a bit too long. We pulled the strips almost to the end and my son's head circumference is at 50th percentile. One other comment I had was, it was hard to determine the left and right eye on the goggles and I needed to know since each eye had a slightly different rx. They were very fast to respond and we were able to figure out quickly. But it would be helpful to somehow mark the left and right eye on the goggles itself or send the instructions. Just a recommendation for future customers. Goggles are nicely well made after all. My son is not wearing them for long periods yet but he will be in a month. Hopefully he will get used to them soon. He is complaining about them being too big. Compared to other goggles, these ones are a bit bigger but they are well made and did not seem to have any water passing through yet so I am happy with the product so far. Thanks.

Bought these for my 5 year old daughter. She absolutely loves them and can now see what the instructor is telling her while in the pool. Her swimming has come forward leaps and bounds. Very happy that the nose bridge is solid - makes it much easier for little ones rather than the adjustable ones. Fantastic purchase. Highly recommend. The goggles fit really well - will be purchasing the next size when we need the bigger size. Thank you gogglesnmore!!

Great product, do not hesitate!

My 4.5 yo son has strabismus and is extremely far-sighted. It is difficult to find prescription goggles that have options for "+" prescriptions. He also has different prescriptions per eye so this was an even greater find. The goggles arrived faster than expected and my son loves them. The first night he wore them at the dinner table in lieu of his regular glasses. I highly recommend this product!